Gear Flash Downloader 1.12
Gear Flash Downloader is a free SWF downloader tool to download SWF Flash files from web pages. Gear Flash Downloader is very easy to use.
Simply copy and paste the URL of a web page into the program, press Download button, and the SWF Flash files on the web page will be downloaded to your local computer.
All your favorite flash animation, flash games and flash cards can be saved with just a single click and made available as a collection offline.
Gear Flash Downloader 1.1 is optimized for downloading online flash games. Gear Flash Downloader 1.1 supports downloading flash games from game providers such as Mochi, Playtomic, Flash Game Distribution & Kongregate etc.

Gear Flash Downloader Screenshot:
How to Use Gear Flash Downloader:
Copy URL from web site and paste to Gear Flash Downloader program, set output directory, then click "Download" button to download. Wait patiently and this program will download the SWF file to your local computer. You can ignore the "No response" error during downloading.
You can open the SWF file offline in your flash player after download. More information...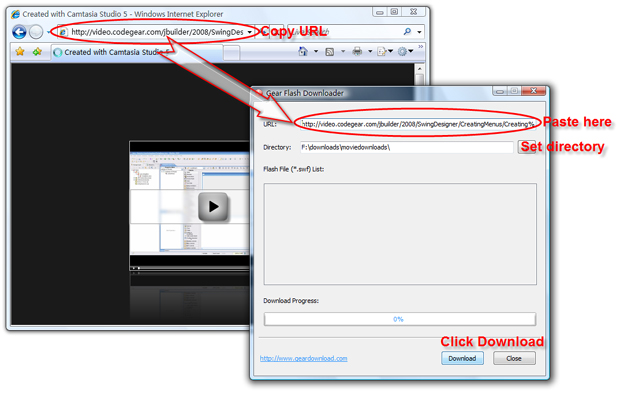 About Flash SWF Format:
Originally limited to presenting vector-based objects and images in a simple sequential manner, the format in its newer versions allows audio, video and many different possible forms of interaction with the end-user. Once created, SWF files can be played by the Adobe Flash Player, working either as a browser plugin or as a standalone player. SWF files can also be encapsulated with the player, creating a self-running SWF movie called a "projector".
Adobe makes available plugins to play SWF files in web browsers on many desktop operating systems, including Microsoft Windows, Apple Mac, and Linux on the x86 architecture.
Flash file can't be directly downloaded by web browsers, so a flash downloader tool is needed to download online Flash(.SWF) files.